hostelsitaly.it is one of the best websites to find budget accomodations all over the world.

This website is fully devoted to visitors who need a fast and easy way to find, compare and book accomodations all over the world



Italy: 580 Hostels found

Aeolian Isles (3)

Alghero (9)

Amalfi (6)

Arezzo (7)

Bergamo (7)

Brescia (2)

Cagliari (4)

Catania (10)

Cattolica (3)

Cave (1)

Chieti (2)

Chiusi (1)

Civitavecchia (2)

Cosenza (2)

Cuneo (2)

Dorgali (2)

Fiesole (2)

Florence (90)

Gabicce Mare (3)

Grado (2)

Ischia (6)

Massa (2)

Milan (50)

Montecatini Terme (4)

Montecchio Emilia (2)

Napoli (18)

Nizza Monferrato (2)

Orvieto (2)

Ostuni (2)



Padua (7)

Palermo (7)

Parma (3)

Perugia (10)

Pescara (6)

Pisa (5)

Positano (3)

Ravenna (2)

Reggio Emilia (2)

Rimini (11)

Rome (167)

Saint-vincent (2)

San Gimignano (2)

Santa Teresa Di Gallura (2)

Sassari (2)

Siena (9)

Sorrento (29)

Susa (2)

Syracuse (7)

Terni (2)

Torino (8)

Trento (4)

Ulassai (2)

Venice (29)

Venice Mestre (2)

Venice Mira (2)

Verona (3)

Viareggio (2)



View all cities in Italy: (133) ...



ONLINE BOOKING SYSTEM

The booking is guaranteed: you will only have to pay 10% of the booking as a deposit; the rest will be paid when you arrive at the hostel/hotel of your choice.

All bookings are in real-time, secure and guaranteed for the traveler. SSL connection is guaranteed by Thawte, world leader in Internet Security.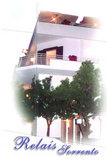 VILLA ORIANA RELAIS

Bed and breakfast

Italy
>> Sorrento

Via Rubinacci, 1

Location: in the center
tel. +390818782468
Fax: +390815324830
<!B>info@villaoriana.it
Panoramic Villa, immersed in the scents and colours of lemon and orange groves, just a few minutes from the city centre. The villa, with its own entrance and private parking facilities, is on different levels, three reserved for guests only. On the fantastic terrace overlooking the gulf, it is serve ...



50.00 EURO

75.00 EURO

95.00 EURO

110.00 EURO


Click for prices and details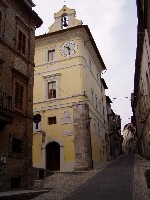 Ostello dei Garibaldini

Hostel

Italy
>> Terni

c.so dei Garibaldini, 61 - 05033 Collescipoli - Terni

Location: outside the city
tel. +39 (0)744 800467
Fax: +39 (0)744 800467
<!B>info@ostellogaribaldini.it
L'Ostello dei Garibaldini, a conduzione familiare, è situato all'interno del borgo medievale di Collescipoli, che domina al vallata della città di Terni, e luogo ideale per partire alla scoperta dell'umbria e l'alto lazio. ...



Shared room starting from 12 EURO per bed per night

Click for prices and details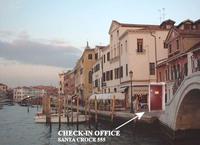 SANTACROCE RESIDENCE

Hostel

Italy
>> Venezia

Santa Croce 555 Venezia

Location: in the center
SANTACROCE Description Typical Venecian Palace of the 17th century facing the Grand Canal, magic atmosphere, 1 minutes walk from bus/car terminal Piazzale Roma and 3 minutes walk from the train station. The white building of Accademia is sunny, elegant and completely restored.Santacroce 555 has shar ...



Shared room starting from 32 EURO per bed per night