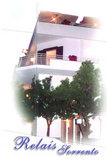 VILLA ORIANA RELAIS

Bed and breakfast

Italy
>> Sorrento

Via Rubinacci, 1

Location: in the center
tel. +390818782468
Fax: +390815324830
<!B>info@villaoriana.it
Panoramic Villa, immersed in the scents and colours of lemon and orange groves, just a few minutes from the city centre. The villa, with its own entrance and private parking facilities, is on different levels, three reserved for guests only. On the fantastic terrace overlooking the gulf, it is serve ...



50.00 EURO

75.00 EURO

95.00 EURO

110.00 EURO


Click for prices and details